Share
Who was the youngest engineer at Microsoft this?. The answer is Marko Calasan, 9-year-old boy from Macedonia. At the age of six years, Marko Calasan got his first recognition of the administrative system from Microsoft. He became a celebrity in the Balkans throughout the region in December when he got his engineers System Certification, a title it hard to get even by a skilled computer engineer.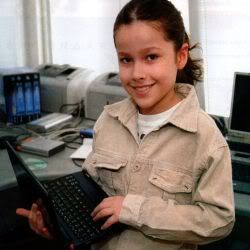 He also worked as an administrative control system in a non-profit organization that helps people with disabilities.
Marko Calasan
now has a new project to teach people about computer knowledge in English using video streaming.

Among the processing time for computer systems and also to share knowledge, Marko looks like the other kids in general who like to play ball with friends, roller skating, and also eliminate the stereotype of a nerd. He considers the computer game is a waste of time than the time "playing outside". When are ya child like that Indonesia could?

unic77.blogspot.com

Tags:
Share
Related Post