Share
If you've ever installed Windows 7 Beta, which would see the message in important states of the Action Center is located in the system tray is one of them is a request for Search and Antivirus Programs. From this it can be captured that Microsoft itself considers that the system was not yet safe for him if unaccompanied by other programs to ward off viruses and malware. As with Windows Vista, security program that is included in Windows 7 Beta only the Windows Defender antispyware.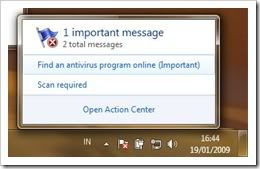 If you see Microsoft's list of
Antivirus programs are compatible with the Windows 7 Beta
, there were three Antivirus programs that go as follows:
*
Symantec Norton
360 provides 3.0 Beta
*
AVG
that offers AVG Internet Security and AVG Anti-Virus which is both commercial AVG products
* Kaspersky that provides technical preview of
Kaspersky Anti-Virus
for Windows 7.

Is it really that limited? Then I tried to install and run AVG 8 Free Edition and Avira Antivir Personal is free of use, and found the installation process or when traveling, no problems arise. Action Center on Windows 7 itself well to read the presence of both antivirus status if it includes real-time protection is off or on when needed update.

In the How-to Geek has no writing on the basis of direct experiment that produces a list of Antivirus and Antispyware list compatible with Windows 7.

Antivirus compatible with Windows 7

* AVG Anti-Virus Free Edition – this is what I personally use… it's excellent and FREE
* Avira AntiVir Personal Edition
* Norton AntiVirus 2009
* Avast! AntiVirus Home
* Kapersky Anti-Virus 2009
* PCGuard Anti-Virus from Virgina Media Broadband
* ESET Nod32 Anti-Virus
* Microsoft Forefront Client Security (Enterprise)

Antivirus is NOT compatible with Windows 7

* McAfee VirusScan
* Microsoft Windows Live OneCare

AntiSpyware that compatible with Windows 7

* Windows Defender
* Spybot Search & Destroy
* Ad-Aware
* Malwarebytes' Anti-Malware
* Spyware Blaster

For the record, if you for example want to use anti-spyware programs other than Windows Defender is already present in Windows 7 Beta, then you should uninstall Windows Defender at first because of using two or more antivirus or antispyware product will not overload the system.


Tags:
Share
Related Post