Share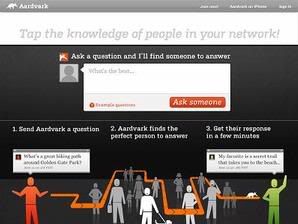 Internet giant "Google" has purchased
Aardvark
, the
search social services
specifically designed to answer questions from users. Aardvark will forward these questions to the social networking service, and choosing the right answer.
"I can confirm that we have signed an agreement with Google," founder and chief technology Damon Horowitz
Aardvark
in the email to AFP as reported by Antara.
However, it can not comment further about the acquisition. Leading
technology blog
TechCrunch estimate the purchase price was not less than 50 million U.S. dollars.
Aardvark
is based in San Francisco is a start-up company founded in 2007. The founders include former Google employee and now employs about 20 people.

Aardvark using the network of contacts in person to provide answers to questions via the Web at Vark.com, instant messaging, email or Twitter. In a blog posting recently, Aardvark said it had had more than 90,000 users in October 2009 and 87.7 percent of the questions sent to Aardvark receive an answer from a friend or friend of a friend.

Aardvark said 75 percent of users who ask questions Aardvark also answer questions for others. Each question is answered claimed today between 5-10 minutes depending on the type of questions and the number of networks owned by its users.

Later, working on Google's social networking service. Last strategic move is to a Google service that adds features Buzz status updates and sharing links, photos, and videos through Gmail.

(oneblitz.blogspot.com)

Tags:
Share
Related Post